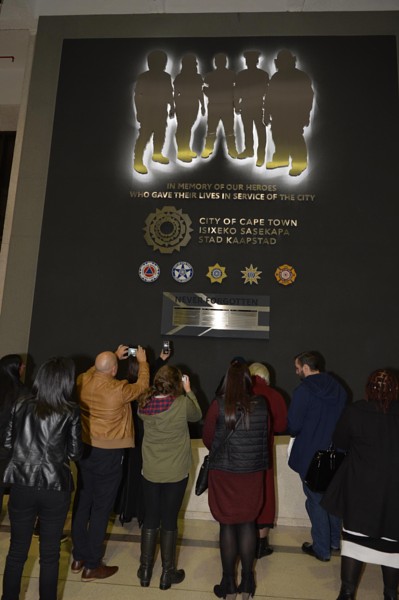 City of Cape Town Civic Centre,
Memorial Wall unveiling
City of Cape Town Civic Centre, Memorial Wall:
Ruben Reddy Architects are proud to have been the architects on the City of Cape Towns' Memorial Wall for enforcement staff who have died in the line of duty. Erected on the entrance level of the Civic Centre in the central business district, the wall contains the names of staff members who have given their lives in service of the City of Cape Town and its residents since 1907.
Five silhouettes against a dark wall represent the five departments within the Safety and Security Directorate: Metro Police, Traffic Services, Law Enforcement, the Fire and Rescue Service, and Disaster Risk Management – along with the list of the names of those in whose memory it has been erected.
The use of 'light' on the wall, embodies the memory of those who have given their lives in the line of duty. The dominant feature of the wall is the a halo around the silhouettes rather than a fixed object, to allow the viewer to consider the life of the person who passed, rather than the finite reality of their absence. The memorial walls' dark background creates a 'quiet space' for reflection and memory in what is otherwise, a busy and brightly lit thoroughfare.
'There are many brave men and women who put their lives on the line for us on a daily basis, helping us make Cape Town a safer city for all – sacrifices that often go unnoticed amid the negativity that surrounds enforcement in this country. I tip my hat to those who don the uniform on behalf of the City, day in and day out, to make a difference and I also hold those for whom the journey was so abruptly halted dear to my heart for their contributions. This memorial wall is but a small token of my and the City's appreciation for their service,' said the City's Mayoral Committee Member for Safety and Security; and Social Services, Alderman JP Smith.
We wish the families peace and contentment. We also thank the men and women who still serve us every day, putting their lives at risk.
Ruben Reddy Architects
​
​